Latest Topics

Barracoon too skurred?
---
Donation system
---
pigment slime!!
---
House placement in Zento?
---
Sanctuary Altar
---
Britain Library
---
What the heck do I do with this LJ?
---
Custom tower steps
---
Skill cap increase
---
Anniversary/heritage tokens
---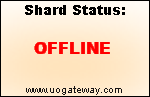 AoV Videos
Promo Video
[Pages of our lives parody
Promo video 3
CTF / Harrower
Revamp Intro

Powered by:


Welcome to Age of Valor! We are an Ultima Online free shard that has been running since 2006 featuring lot of advanced custom content. We originally decided to shut down in 2012 but due to popular demand we have reopened! (as of February 2015).

Server host is login.uovalor.com, port 1337. See connection instructions here.





News :: Jul 30 2015 6:22:00 pm - Potential Shard Revert - Guilds did not save correctly.
I really hate to do this, I always promised it's something I would never do, but for some reason all guilds have been corrupted. They are completely gone. I will experiment in the test environment with backups to see if they return. If yes I may have to revert to that version of the backup. Very sorry to have to do this but I'm sure it's better that then everyone loosing their guilds.

I will update this with plans once I figure out what is going on.
News :: Jul 27 2015 10:49:28 pm - Scheduled Server Maintenance: July 28 2015 @ 11:59pm ET
I will be taking down the server for some required preventative maintenance. I also need to make a firewall change on the database server which could threaten the SQL connectivity so I will do that at the same time while shard is down. Basically I need to image the shard server and DB server so that in the event of a catastrophic failure I have a base working OS to go on and only need to restore data.

This downtime will last about 1 to 2 hours. I will post here and broadcast in game when I'm about ready to start.

I am going around my entire network doing this type of maintenance as it is overdue and the shard will be last.

Note: Time was previously 3pm, It has been postponed to midnight.
News :: Jul 27 2015 12:33:58 am - Forum registration broken [fixed]
Note that for some reason the captcha code has stopped working. I will be looking into this to rectify it as soon as possible.

If you are trying to register just keep checking until we fix it. We are still working on getting the new forum going but that will be a bit longer till we do the full migration.
News :: Jul 22 2015 12:09:19 am - The great IDOCs of 2015
This is a reminder that in the next month or so any houses that have not been refreshed since the reopening of the shard will more than likely start going IDOC.

I am going to guess it will start a few days into August, but due to the randomness of the system I cannot tell for sure. They will not all go at same time as they were originally randomized in a range of 10 days, and the actual IDOC timer is random to some degree as well. This should hopefully give enough opportunity to catch some as they will fall at different time zones.

This is also a great opportunity for newer players to find some gear.
News :: Apr 14 2015 11:35:08 pm - Dungeon Underworld
Underworld is now accessible to players. Underworld is one of 2 dungeons released from the Stygian Abyss expansion. Underworld is home to goblins, rotworms and other unusual critters.

You can quickly locate the Underworld by using the rune library. You can either use the quick access orange gate or you can recall off the rune in the runebook in the new "Stygian Abyss" shelf.


In this initial release, players can experience the following:
- 14 new monsters from the Stygian Abyss expansion. All their special abilities and stats have been coded.
- Lucky coins can sometimes be found on corpses in the Underworld. Toss them into the fountain of fortune in the Underworld
- All underworld decorative stealable artifacts
- The experimental gem puzzle

Please provide feedback and comments on your experience in the Underworld. Please note that the Underworld will continue to be tweaked and adjusted.

For the time being, the Underworld has been designed to OSI. A few modifications have been made to improve on an existing design (such as the experimental room) or to correct flaws (such as teleporters).

There will be customizations unique to AOV but will remain loyal to the original OSI design.
News :: Apr 13 2015 10:03:16 pm - Iceteks Forums Migration Progress
This is not exactly AoV related but I will keep this thread here for a general progress log of the migration process.

As I may have mentioned before I run several other forums, most are actually defunct due to too many security issues and lack of time to maintain them all, so the goal is to combine them all into a single forum, which will reside at iceteks.com. This forum included.

The forums in question are:

anythingforums.com
iceteks.com
uogateway.com
uovalor.com

All forum accounts and posts will be preserved in this transition but it will require a password reset due to the fact that all forum systems use their own method of storing passwords, it's just easier to have everyone do a reset on the new system.

Part of this migration will also involve a separate account system as the future goal is to tie in other things into it as well such as Uogateway shard submissions, and perhaps even the AoV UO accounts themselves. Also any other systems we add such as the wiki will also use the same account.

The idea behind this is to have a central account systems for all my sites and to make it easier for everyone. Also act as a central place to police spam accounts.

This thread will act as a general place for me to post progress updates.

In the meantime, please ensure your email address is up to date on your account as it will be required once the migration takes place. I have no ETA at the moment, as there is still a lot of work left to do.
Event :: Apr 04 2015 6:51:38 pm - Cherry Blossom Festival April 1st to May 15th

Cherry Blossom Festival (Yearly from April 1st to May 15th)



Head to the town of Zento in the Tokuno Islands to take part in the festival.



Treasures of Tokuno



- Increased drop rate of Treasures of Tokuno between April 1st to May 15th
- Leurocian's Mempo of Fortune and Yomotsu Elder's Sleeves as rare lesser treasure drops
- 10 new one charge exotic lesser pigment drops
- Turn in 10 lesser treasures for one of the 10 new greater metal pigments



Cherry Blossom Puzzles



- Head to Zento and try one of the Cherry Blossom puzzles. Win lesser Treasures of Tokuno as prizes as well as blossoms for the community collection.
- Gives a higher chance of getting Leurocian's Mempo of Fortune or the Yomotsu Elder's sleeves as a prize
- 1 in 50 chance of getting the puzzle exclusive shadow veil mempo!



Blossom Collection



Collect different blossoms and turn them in for new prizes, such as decorative flower vines, costumes of tokuno creatures, and new equipment!



Be sure to turn your blossoms in with the same character if you racking up points. Points are character bound, not account bound!



Collecting blossoms can be done several ways
- Complete the quests that can be found at the Zento bank
- Kill monsters in the three Tokuno based dungeons (Fan Dancer's Dojo, Yomotsu Mines or the Citadel)
- Escort festival goers to Zento
- Complete the Cherry Blossom Puzzles for a chance to get blossoms as a reward
- Sometimes spawned naturally around the ground around Tokuno (Not in dungeons)



Quests


- Search the lands for the terrible Niddhogg. A random person in the top attackers list will get its head upon death. Deliver the head to the NPC in Zento for a reward.
- Festival escorts can be found around the Tokuno islands. Bring them to Zento for a reward.
- An NPC in Zento will give you a quest to kill a specific list of lesser monsters that are found in Tokuno.
- An NPC in Zento will send you on a quest to find stolen statues. Return them for a reward.



Dungeon Changes


- Some spawn changes have been changed or cleaned up
- All monsters have a chance to drop blossoms in your pack upon their death (Only during festival season from April 1st to May 15th).
- Your luck will influence your odds of getting a higher quality blossom which is worth more turn-in points.
Apr 01 2015 10:59:41 pm - April 1 2015 - New Festival, Underworld Dungeon, Bug fixes
Greetings AOV!

It's been almost 2 months since we have re-released the shard and we have been busy setting things back up.

Please continue to report any bugs or issues you experience and we will do our best to address and fix them up. A couple of bug fixes did not make it in for this update but we have added them to the todo list for next update.

Here's a list of the newest additions and fixes for this update:



Cherry Blossom Festival (Yearly from April 1st to May 15th)



Head to the town of Zento in the Tokuno Islands to take part in the festival.



Treasures of Tokuno



- Increased drop rate of Treasures of Tokuno between April 1st to May 15th
- Leurocian's Mempo of Fortune and Yomotsu Elder's Sleeves as rare lesser treasure drops
- 10 new one charge exotic lesser pigment drops
- Turn in 10 lesser treasures for one of the 10 new greater metal pigments



Cherry Blossom Puzzles



- Head to Zento and try one of the Cherry Blossom puzzles. Win lesser Treasures of Tokuno as prizes as well as blossoms for the community collection.
- Gives a higher chance of getting Leurocian's Mempo of Fortune or the Yomotsu Elder's sleeves as a prize
- 1 in 50 chance of getting the puzzle exclusive shadow veil mempo!



Blossom Collection



Collect different blossoms and turn them in for new prizes, such as decorative flower vines, costumes of tokuno creatures, and new equipment!



Be sure to turn your blossoms in with the same character if you racking up points. Points are character bound, not account bound!



Collecting blossoms can be done several ways
- Complete the quests that can be found at the Zento bank
- Kill monsters in the three Tokuno based dungeons (Fan Dancer's Dojo, Yomotsu Mines or the Citadel)
- Escort festival goers to Zento
- Complete the Cherry Blossom Puzzles for a chance to get blossoms as a reward
- Sometimes spawned naturally around the ground around Tokuno (Not in dungeons)



Quests


- Search the lands for the terrible Niddhogg. A random person in the top attackers list will get its head upon death. Deliver the head to the NPC in Zento for a reward.
- Festival escorts can be found around the Tokuno islands. Bring them to Zento for a reward.
- An NPC in Zento will give you a quest to kill a specific list of lesser monsters that are found in Tokuno.
- An NPC in Zento will send you on a quest to find stolen statues. Return them for a reward.



Dungeon Changes


- Some spawn changes have been changed or cleaned up
- All monsters have a chance to drop blossoms in your pack upon their death (Only during festival season from April 1st to May 15th).
- Your luck will influence your odds of getting a higher quality blossom which is worth more turn-in points.



Stygian Abyss Releases



We are currently setting up the Underworld as the first dungeon from the Stygian Abyss expansion. We will release a more detailed post when the Underworld is open to players.

When the Underworld is opened, players can experience the following:
- New underworld stealables to collect
- Brand new UOSA monsters with new abilities
- Monsters may drop a lucky coin. Test your luck at the Fountain of Fortune
- Test your mind and reflexes with a puzzle at the Experimental Room. Solving the puzzle will earn you some unique decorations such as large wall banners, stalagmites and tapestries

This is part one of the Underworld's release but should give players a lot to explore while we work on the second portion.



Other fixes


- Shadow Knight abilities revised. Tracking is no longer necessary when fighting them.
- The old 'Vader' spawn has returned. It is located under Buccaneer's Den in Felucca in the tunnels (Find the green vortex) and now has a cursed pirate theme. The spawn strength and boss hit points has been reduced and the summons changed slightly.
- Gauntlet spawners have been fixed and restored to their original state
- Stealable artifact bug should now be fixed
- Fixed an issue with mobiles losing their connection to spawners
- Revised target switching algorithm to be less harsh against tamers
- Peerless key timers have been extended to 7 days. The timers have also been changed to show in days, minutes and seconds instead of only in seconds.
- Fixed a few issues with the quest system
- A quest is no longer needed to collect pigment from acid slimes. Upon death of the slime, a random person in the top damagers' list will receive a bottle of pigment in their pack.
- Fixed a bug with the quest system where the reward would be lost if you were over weighed. The item now drops in your bankbox if you cannot hold it in your pack, or it will drop to your feet if it cannot drop to the bankbox.
- Something really annoying and visually offensive courtesy of the Red Squirrel department of Utter Nonsense (April 1st)

© Copyright 2015 Age of Valor